The Sun
'He set the sun in the heavens to rule over the day.'
The ageless female figure raises her arms to the sun, from which all life receives its energy. She acknowledges God's creation as outshining all our vain efforts to hide His Light.
Her forward gaze directly challenges us to acknowledge the Creator's supremacy over all the Universe. The figure represents the Arts. The sun, a symbol of the one Universal Creator, is energizing the creation of life, the arts, happiness, and all good things.
Title: The Sun
Year: 2009
Dimensions: 24in x 36in
Medium: Digital Image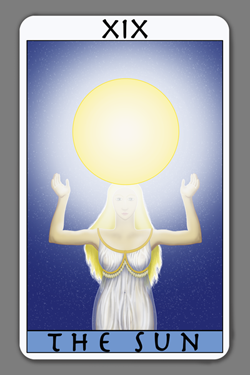 Click on the Image above to see a larger version.