The Chariot
'We carry forward on the backs of the dead.'
On the plain before the city, the charioteer faces us from the platform of his chariot, stern, calm and composed. Girded for battle, he stands, aware of history, embracing his fate and his future: 'We carry forward on the backs of the dead.'
The Pharoh, figured on the chariot reminds us of ancient wisdom, of stern and autocratic leadership, of riches and fame, and yet at the same time, decay and fallen kingdoms. All is transient in this world. Where is his kingdom now?
In the clouds above is a faint image. Is it an echo of the charioteer, or is it the image of another, remaining behind in the city which he guards and protects?
Title: The Chariot
Year: 2009
Dimensions: 24in x 36in
Medium: Digital Image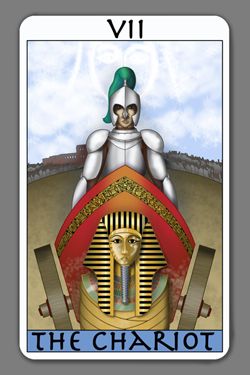 Click on the Image above to see a larger version.