The Priestess
'The Truth remains veiled.'
Veiled and robed, the High Priestess faces us with open arms from between the columns of the temple. Above her head, the new moon hovers in the sky. Lotus plants circle the head of the columns, with their symbol of death, rebirth, and eternity.
Is this woman here to teach us? To instruct us? Or, does she stand guard between us and some other life, some other place that we would know? From her waist, dangle many symbols of ancient learning and worship, suspended upon cords of purple, blue, yellow, red, gold - the colors of royalty and wealth. Her veil is embroidered at the edges with tiny leaves and flowers.
Obscured by her veil, her face is narrow, wide-eyed, and cool. Even without the veil, her face would show little of what she is thinking. What secrets does she conceal?
Title: The Priestess
Year: 2009
Dimensions: 24in x 36in
Medium: Digital Image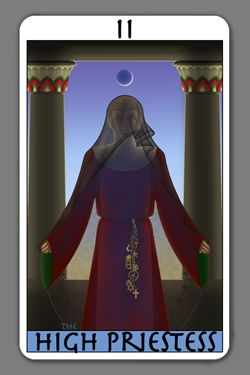 Click on the Image above to see a larger version.